Brute Clues
a collaborative exhibition by
Tom Watt, Tanad Williams and Andreas Kindler von Knobloch
Project Arts Centre
Dublin, Ireland.
2 Sep - 29 Oct 2016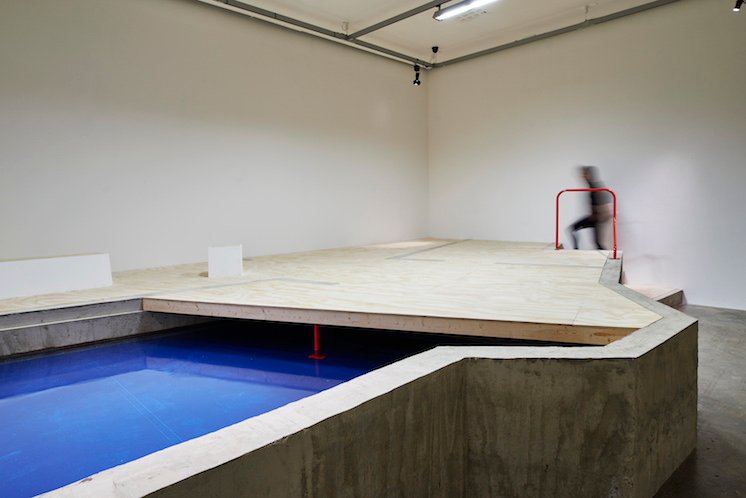 Photographs by Ros Kavanagh
The artists Tom Watt, Tanad Williams and Andreas Kindler von Knobloch have created an artwork drawing on their mutual interest in architecture – built interruptions in the landscape and industry.
Their structure – which they describe as 'not a stage, not a dam, not a platform, and not an excavation' – can be walked on, rested on, climbed, or viewed from afar. With roles designated for the various materials that make up Brute Clues, the limitations and rules surrounding both the materials and the institution are embedded in its structure.
Each with a distinct artistic practice, Tom Watt, Tanad Williams and Andreas Kindler von Knobloch researched sites throughout the American West Coast and Mojave Desert, including Joshua Tree National Park, Taliesin West, Arcosanti, the Hoover Dam and the Utah Salt Flats. The resulting artwork is collaborative to its core, with the raw materials becoming codes for both function and form.
Join the conversation:
#BruteClues
#ProjectArts
Curated by: Tessa Giblin
This new commission has evolved from Project Arts Centre's Open Call: Reboot.
A response to Brute Clues by Tom O'Brien, t o b Architect, an architectural practice based in Dublin, Ireland.

Tom Watt is an artist currently living and working in Dublin. His practice deals with altering the existing architecture of a space or temporarily assigning it new functions, repurposing them through actions and built extensions.
Tanad Williams works with philosophically engaged objects, dialogues and texts. Rooted in academic research and linguistic investigation, the final object is constructed so as to represent both its material reality and its theoretical conception.
Andreas Kindler von Knobloch is a pragmatic utopian. His multidisciplinary practice is focused on ideas of collectivity and participation through the creation of structures and situations that question our material and social relations.